牧师的话 From Pastor's Desk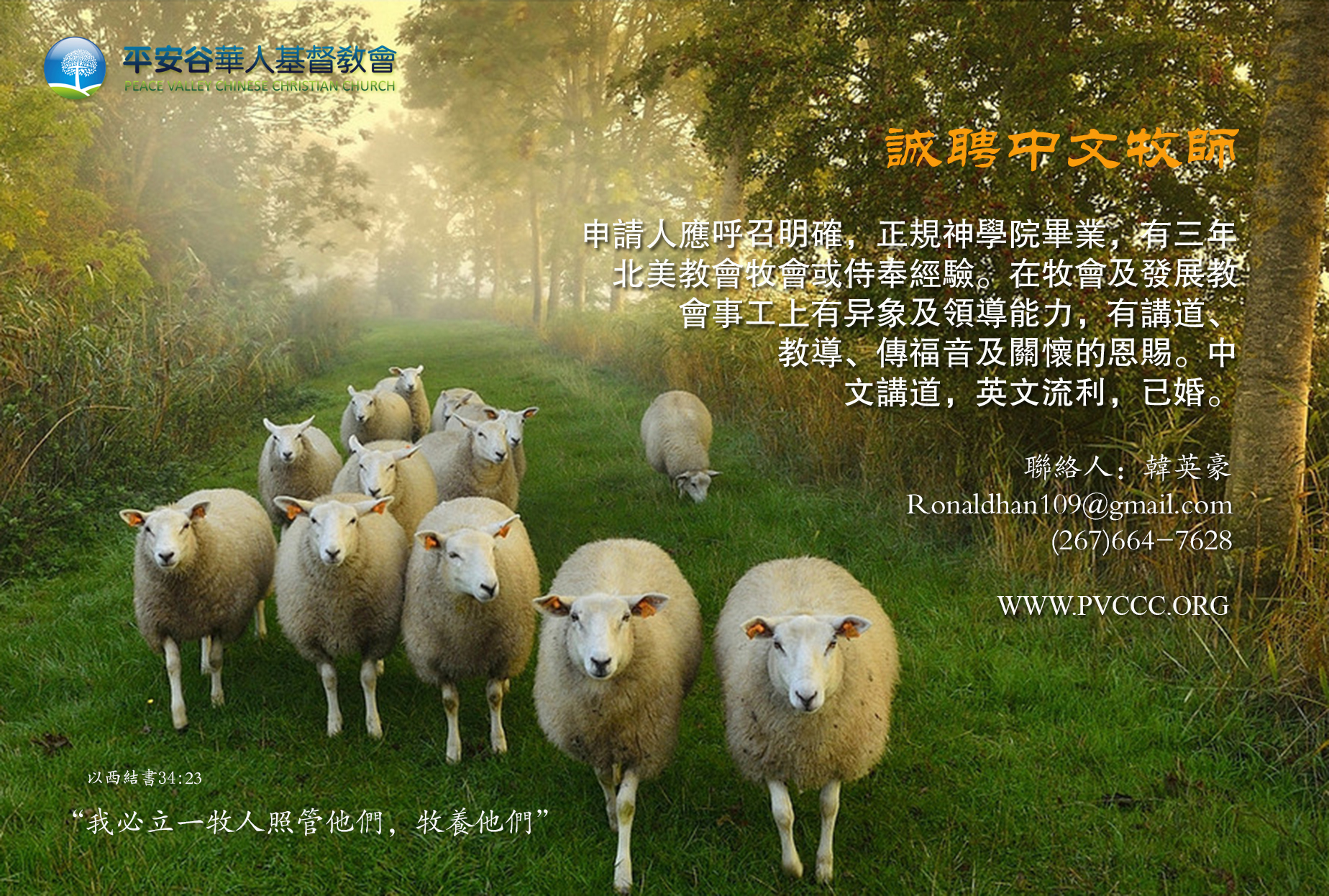 誠聘中文牧師 Full-Time Pastor Position Available
呼召明確. 正規神学院畢業. 三年北美教會牧會或侍奉經驗. 在牧會及發展教會事工有異象及領導能力. 有講道,教導, 傳福音及関懷的恩賜. 中文講道, 英文流利. 已婚.
Clear calling from God towards ministry/Graduate from an accredited seminary/Minimum three year experience working in North American church ministry/Have vision and leadership towards shepherding a church and developing ministry/Gifts on preaching, teaching, caring and outreach/Ability to develop spiritual leaders/Preaching in Mandarin and fluent in English/Married/Please submit application letter, resume, testimony on accepting Christ and calling for ministry, three references from pastors and elders.
联絡人 Contact: 韓英豪 Yieng-Hau Han
Email: Ronaldhan109@gmail.com, Tel: (267)664-7628
主日崇拜录像 Worship Videos

最新主日崇拜录像 Newest Sunday Worship Videos
教会日历 PVCCC Calendar

主日崇拜直播 Sunday Worship Live Stream

直播时间Live Stream Time :主日 Sunday 9:45-11:45 AM
教会通知 PVCCC Announcements

令人期待的2019平安谷儿童圣经夏令营即将于08/12-16举行,今年主题"怒吼-狂野的生命,美好的神", 每天9:00 AM-3:00 PM,节目包括圣经、唱歌、游戏、手工艺等,每人$125,费用包括午餐和零食,一人以上享有15%优惠,平安谷会友子女享有10%优惠。虚位以待,报名从速。若您愿意担任志愿者, 请点击登记,谢谢!Well expected 2019 PVCCC VBS will be launched 08/12-16 with the theme of "Roar-Life is Wild, God is Good". The program (9:00 AM-3:00 PM) includes Bible Stories, Songs, Games, Crafts…$125 per child with lunch and snacks included. 15% discount for siblings and 10% off for PVCCC members. Please click to register. If you would like to volunteer, please sign up, thank you.
教会新闻 PVCCC News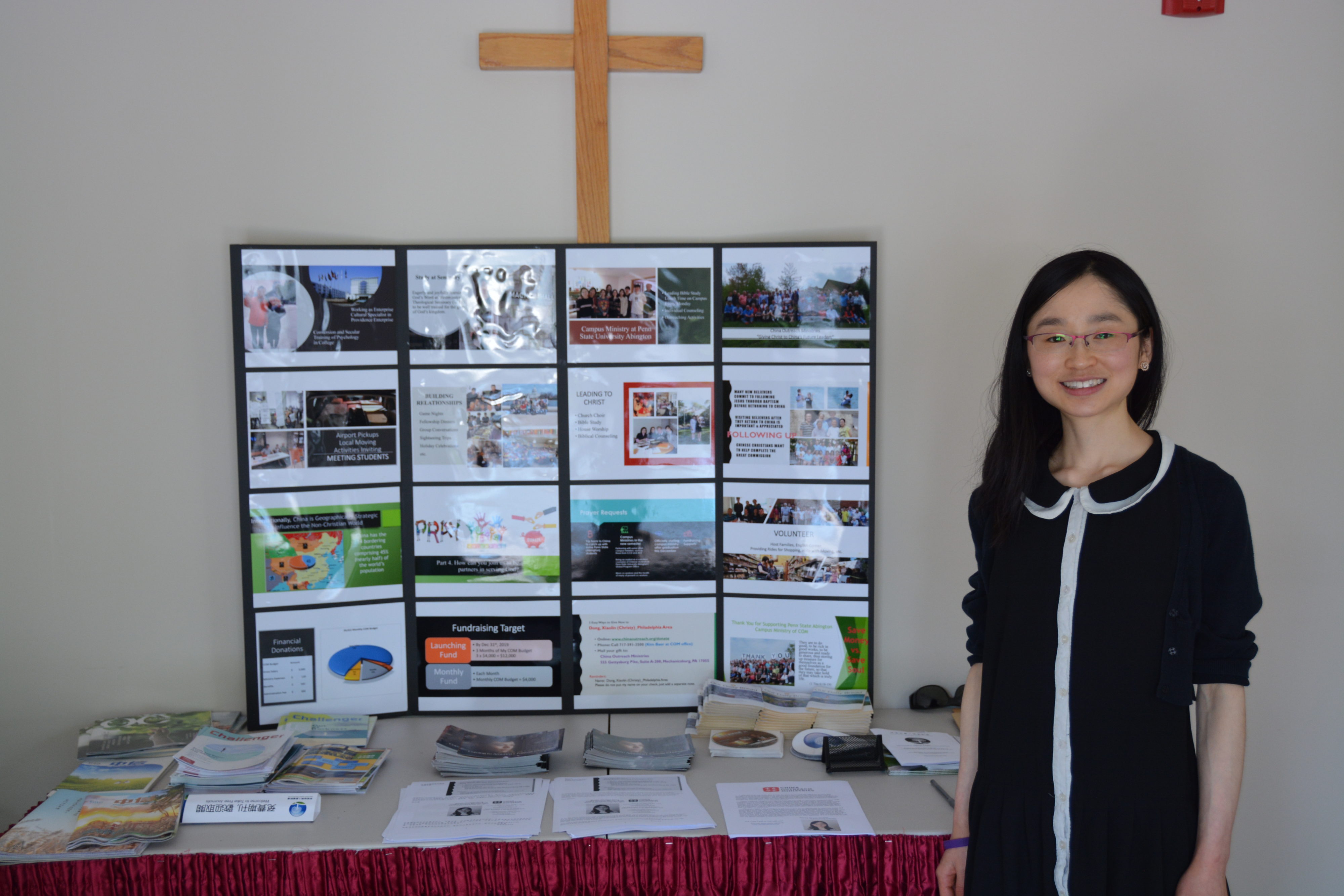 平安谷教会很高兴地邀请董晓林姐妹于06/16分享她参与的Penn State Abington (PSA) 校园事工。晓林姐妹将于今年底从西敏神学院毕业,开始在PSA全职服事, 若您有感动资助她的事工,请点击详情。PVCCC was very glad to invite Sister Christy Dong to share her ministry at Penn State Abington Campus. Sister will start her full time serving in PSA ministry after graduation from Westminster Theological Seminary in the end of 2019. If you are touched to financially support her ministry, please check for details.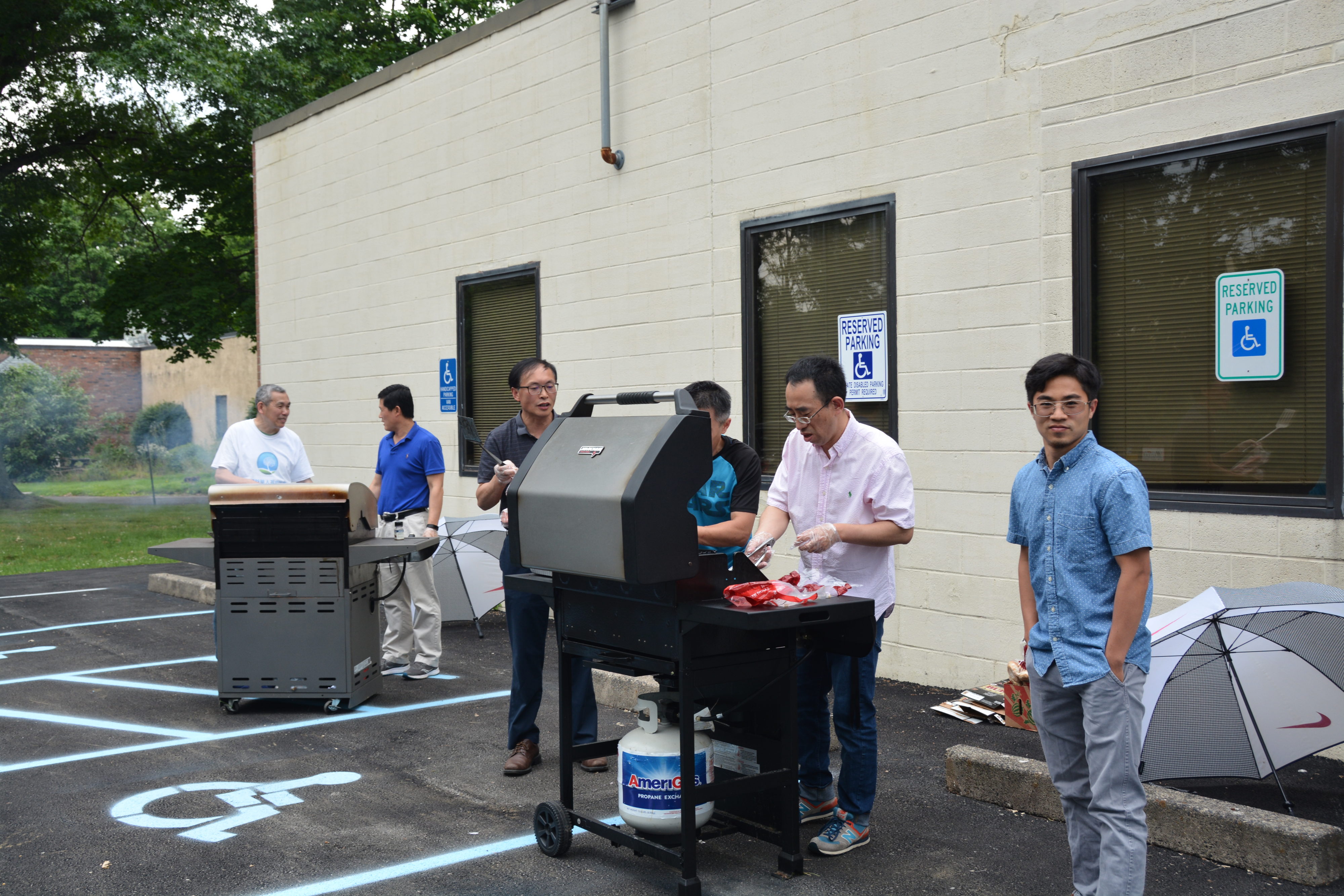 2019平安谷烧烤及毕业生分享于06/16主日崇拜结束后举行, 美食、烧烤、音乐及毕业生感言伴着大家度过一个愉快的夏日午后. 2019 PVCCC BBQ and Graduate Sharing was held on 06/16 after the Sunday service, brothers and sisters were encouraged by the sharing of graduates and delighted with delicious food, BBQ, live music as well for a wonderful Summer afternoon.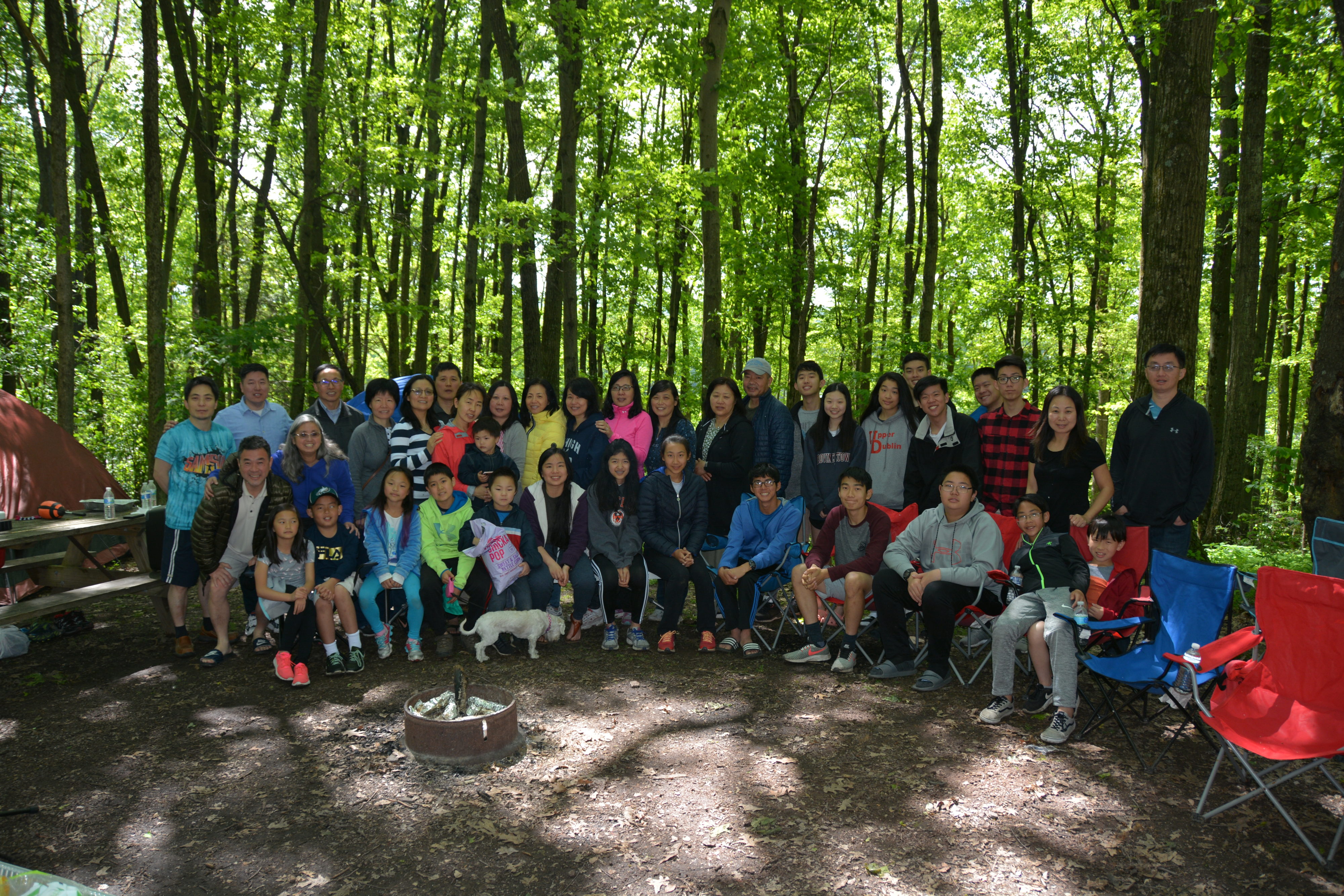 平安谷青年和芥菜籽团契于国殇节周末(05/24-26)前往Pocono山区野营, 领略神的创造之美, 并在大自然中敬拜赞美他! PVCCC Youth and Mustard Seeds Fellowship camped at Pocono Mountains during Memorial Day weekend (05/24-26), to enjoy the splendor of God's creation and worship and praise Him in the nature.
母亲节诗班献诗 Mother's Day Dedication: 风和爱 Wind and Love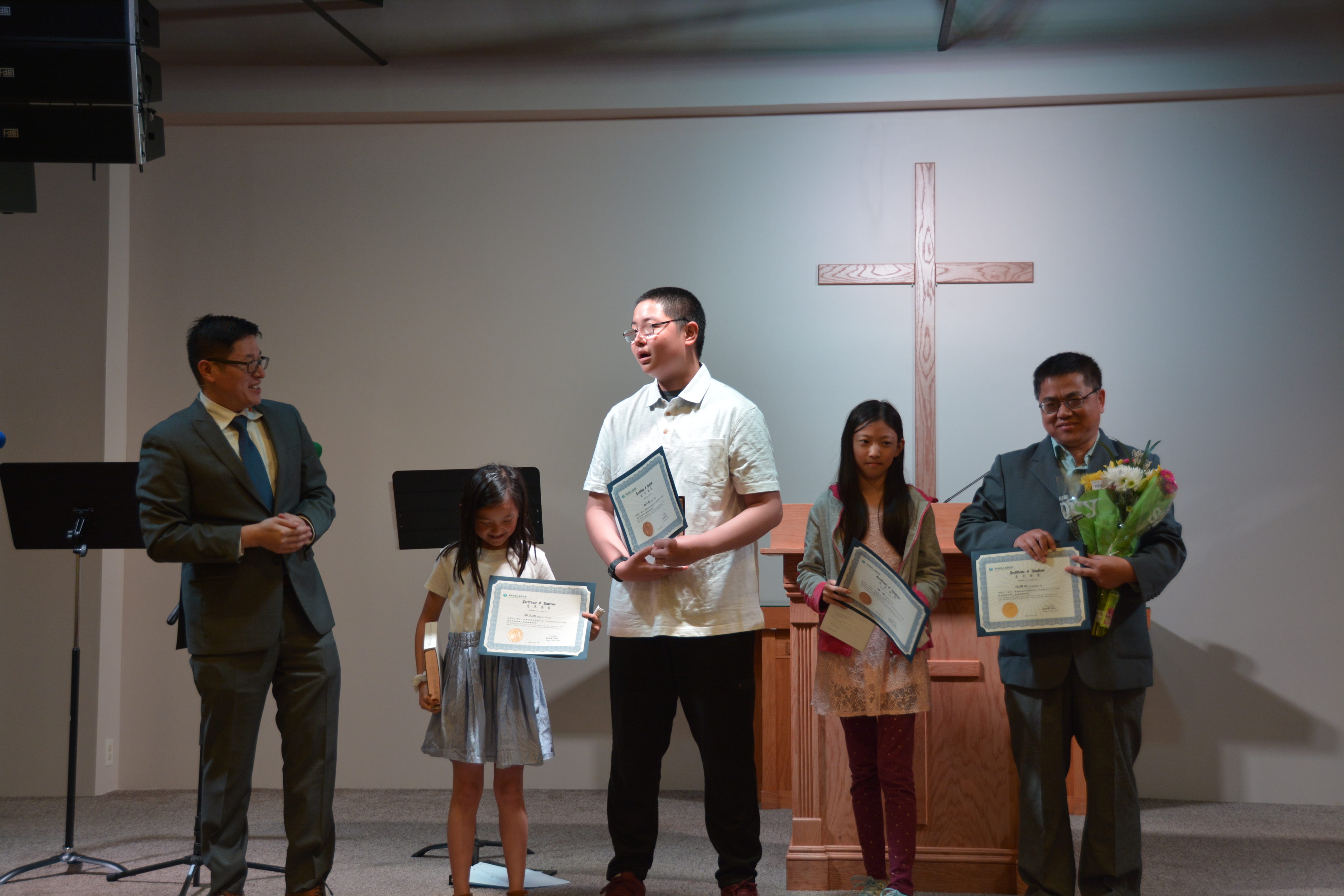 纪颖彪、韩嵘、杨文乐和杨文迪等四位弟兄姐妹于04/28受洗,成为神的儿女,天上的天使都欢喜快乐。Yingbiao Ji, Rong Han, Tylor Yang and Mindy Yang were baptised into God's sons and daughters, there is joy in the presence of the angels of God over their baptism.
更多新闻 More News
影音集锦 Videos and Gallery

平安谷华人基督教会视频集锦 PVCCC Videos
平安谷华人基督教会照片集锦 PVCCC Gallery (2015-Present)