牧师的话 From Pastor's Desk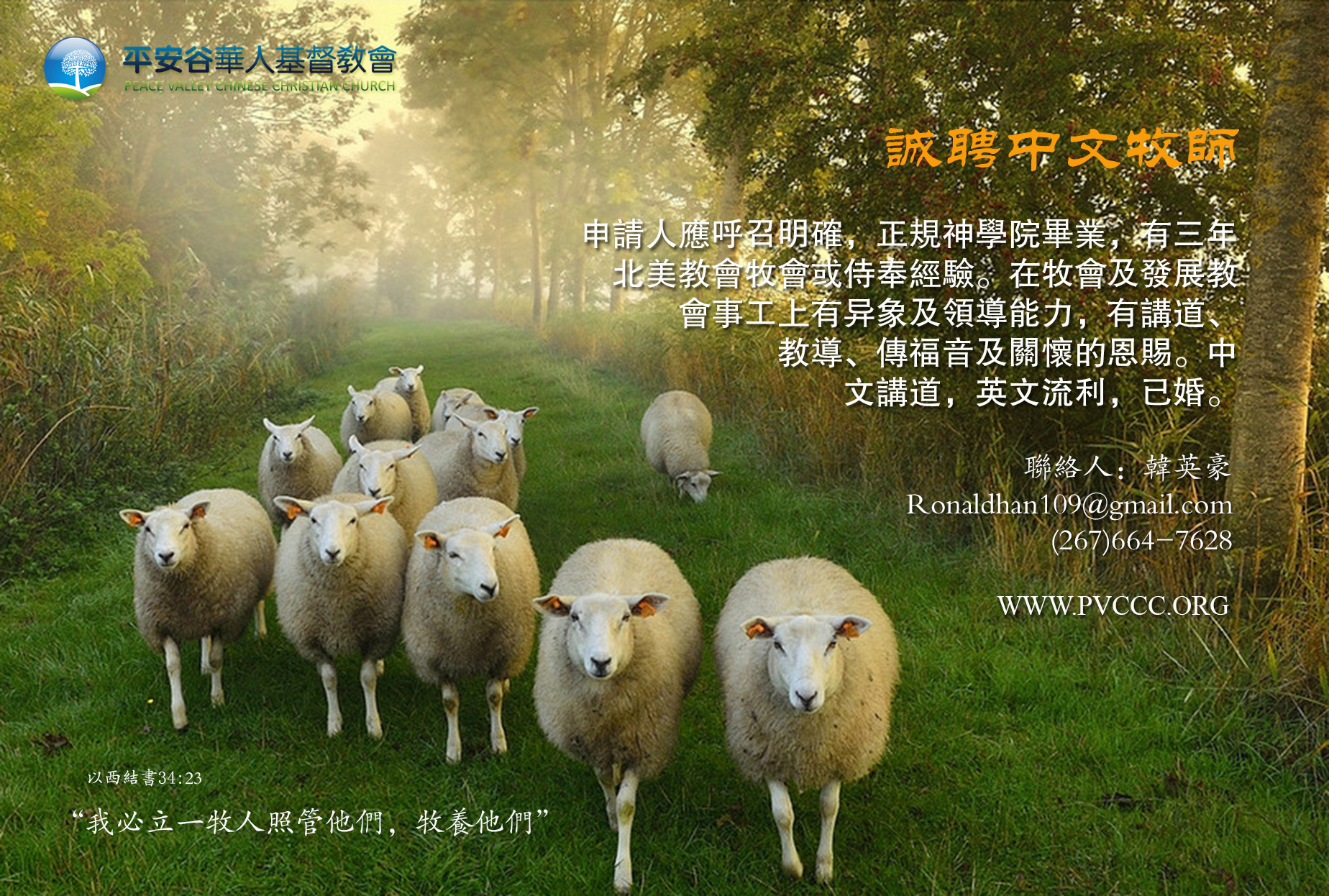 誠聘中文牧師 Full-Time Pastor Position Available
呼召明確. 正規神学院畢業. 三年北美教會牧會或侍奉經驗. 在牧會及發展教會事工有異象及領導能力. 有講道,教導, 傳福音及関懷的恩賜. 中文講道, 英文流利. 已婚.
Clear calling from God towards ministry/Graduate from an accredited seminary/Minimum three year experience working in North American church ministry/Have vision and leadership towards shepherding a church and developing ministry/Gifts on preaching, teaching, caring and outreach/Ability to develop spiritual leaders/Preaching in Mandarin and fluent in English/Married/Please submit application letter, resume, testimony on accepting Christ and calling for ministry, three references from pastors and elders.
联絡人 Contact: 韓英豪 Yieng-Hau Han
Email: Ronaldhan109@gmail.com, Tel: (267)664-7628
主日崇拜录像 Worship Videos

最新主日崇拜录像 Newest Sunday Worship Videos
教会日历 PVCCC Calendar

主日崇拜直播 Sunday Worship Live Stream

直播时间Live Stream Time :主日 Sunday 9:45-11:45 AM
教会通知 PVCCC Announcements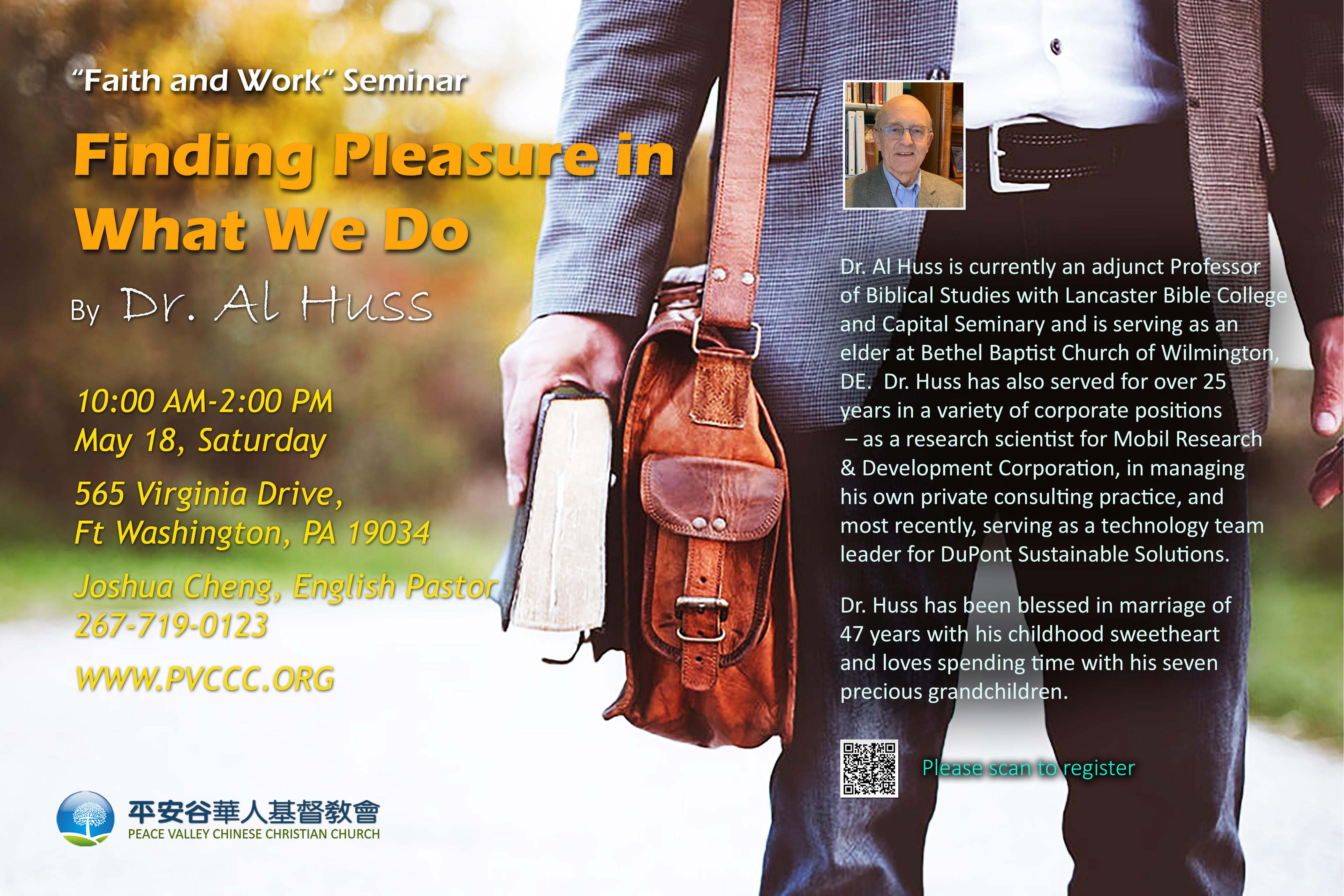 平安谷华人基督教会十分高兴地有机会邀请Al Huss博士于05/18(周六)在"信仰与工作"系列福音讲座"做事中寻找乐趣"上传讲信息, 讲座将以英语进行。若您和您的朋友愿意参加,欢迎尽快注册. PVCCC is very glad to invite Dr. Al Huss to preach on "Faith and Work" serial seminar " Finding Pleasure in What We Do" held in English on 05/18, Saturday. You and your friends are welcome to register to join us. Thank you.
教会新闻 PVCCC News
母亲节诗班献诗 Mother's Day Dedication: 风和爱 Wind and Love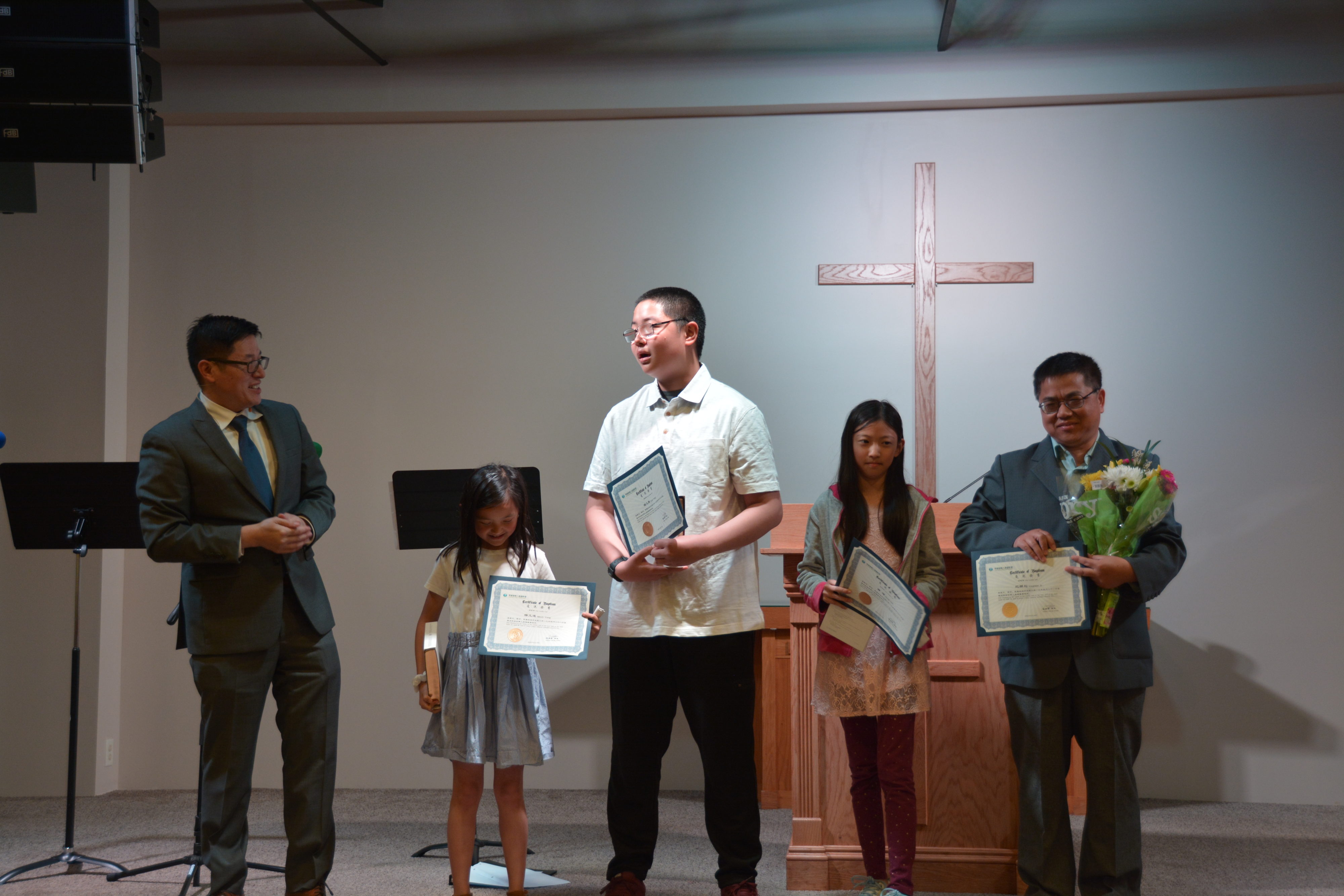 纪颖彪、韩嵘、杨文乐和杨文迪等四位弟兄姐妹于04/28受洗,成为神的儿女,天上的天使都欢喜快乐。Yingbiao Ji, Rong Han, Tylor Yang and Mindy Yang were baptised into God's sons and daughters, there is joy in the presence of the angels of God over their baptism.
平安谷华人教会非常荣幸地邀请到基督使者协会总干事柏有成博士于04/19-21举行了题为"山寨版的人生"福音布道会。PVCCC is very honored to invite Dr. Yeou-cherng Bor, Executive Director of Ambassador For Christ, to preach on an evangelic gospel meeting titled "Counterfeited Life" 04/19-21.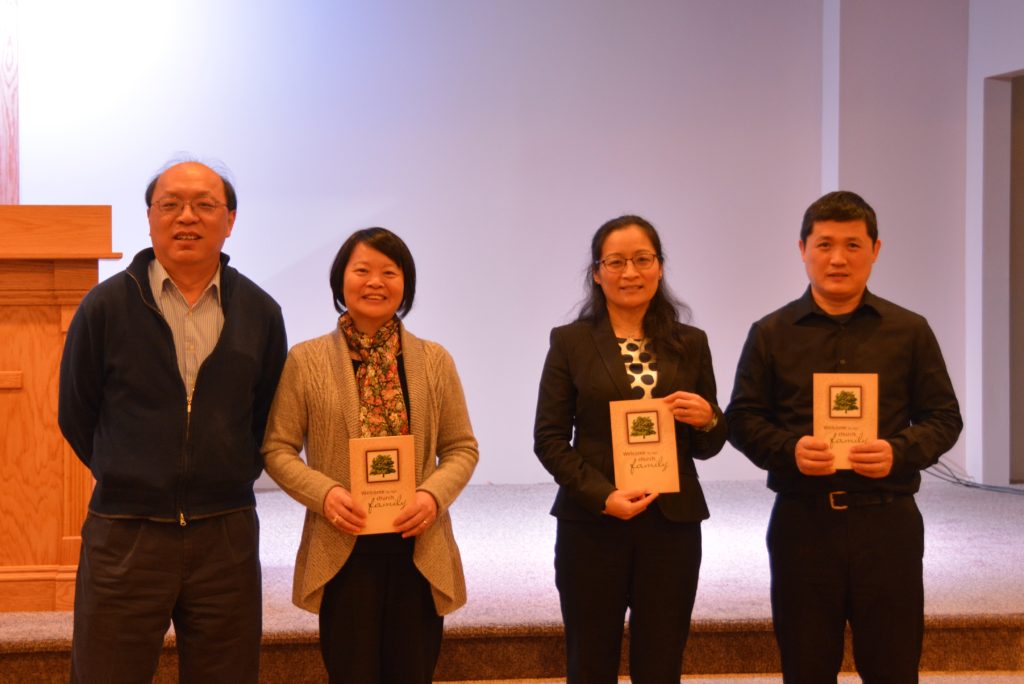 平安谷华人教会03/10举行新会友接纳礼,接纳黄立汉/陈鶯夫妇,王成斌/丁焕成夫妇及和汐佳姐妹加入平安谷大家庭.PVCCC accepted Lihan Huang/Ying Chen, Chengbin Wang/Helen Ding, Xijia He as PVCCC Members on Acceptance Ceremony of New Members 03/10.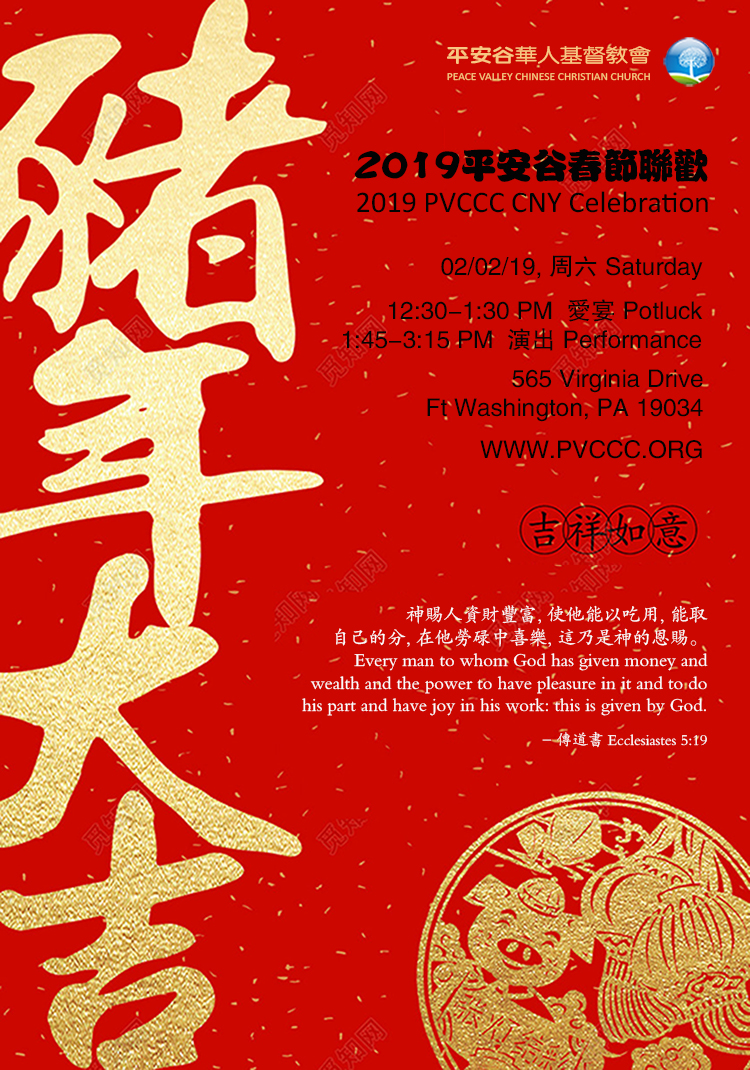 2019平安谷春节联欢会于02/02周六举行,弟兄姐妹们用歌舞、相声、猜谜语等庆祝中国传统佳节-春节,光华中文学校多支少儿舞蹈队应邀表演。2019 PVCCC Chinese New Year Celebration was held on 02/02, Saturday. Brothers and sisters gathered to celebrate the traditional Chinese festival-Lunar Spring Festival. Several children dance teams of Guanghua Chinese School were invited to perform.
更多新闻 More News
影音集锦 Videos and Gallery

平安谷华人基督教会视频集锦 PVCCC Videos
平安谷华人基督教会照片集锦 PVCCC Gallery (2015-Present)