Peace Valley Chinese Christian Church (PVCCC) is a non-denominational, Bible believing church located at 565 Virginia Dr, Fort Washington, PA 19034, a suburban area, north of Philadelphia. We endeavor to obey the teachings of the Bible, worship the Triune God the Father, the Son, and the Holy Spirit, whom together receive same glory and honor. The lead pastor is Rev. Dr. Douglas Huang. Sunday Worship Service is 10:00-11:30 AM. Sunday School for all ages starts at 11:45 AM -12:30 PM. Please check "Introduction" for more information. We sincerely welcome you to join us. 平安谷華人基督教會位於賓州費城北郊 (565 Virginia Dr, Fort Washington, PA 19034),是一間跨宗派,致力遵行《聖經》教導,敬拜三位一體、同榮、同尊之聖父、聖子、聖靈的教會。主任牧師為黃德馨,主日崇拜時間是上午10:00-11:30;各年齡層的主日學為11:45-12:30。請點擊"教会简介" 查看更多详情。我们真诚欢迎您加入平安谷華人基督教會。
牧师的话 From Pastor's Desk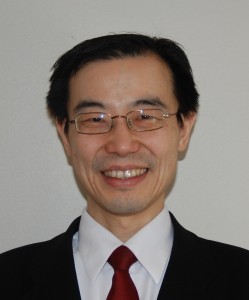 9/28/201

6

I came back US on Monday late evening. Turning on my cellphone, I read a QT from a female pastor (whom I knew for 25+ years), forwarded it to my Sunday School class, and then I read on the other messages… The next one was a friend asking if she had heart attack, and the next one was from her husband, notifying us that she has passed away. All these took place while I was in the flight, less than 14 hours, actually less 10 hours.
星期一回來美國,一下飛機,打開手機,才知道14個小時可以發生很多事情。收到了一位學姊(宜蘭禮拜堂的傳道人)每天寄來的靈修小品"單獨會主",依慣例我就轉發給主日學初信造就班的弟兄姐妹。然後我繼續把手機往下看,一位學長問說她是不是有心肌梗塞;再下一個緊接著就是她先生代替她發過來的信息,學姊突然過世,已經安息主懷,前後不到10個小時。心中百感交集。這位學姊比我大 6 歲,30年前還沒有成為全職傳道人之前,就已經開始作一對一門徒訓練,如今桃李滿天下。我這次去台灣,沒有去見她,但見到了我自己的保羅(帶領我一對一)、自己的提摩太(我帶領一對一)。這個小小的團契,30年出了23位傳道人,現在少了一位嗎?學長告訴我,沒有,今年又多一位獻身,而且現在是每年都有人獻身傳道。
Life is short, how do we see and use our lives? I met an old couple on bus at Taipei. They found it interesting that I had four kids, so we started talking. They told me they are heading to a temple to worship idols. I was surprised to hear that they've come a long way (1+ hr) and they said they've been worshiping idols quite often, and I saw, indeed, they had their "stuffs" in hand for worship. It was like the setting of Acts 17, so I asked them, you've worship many idols in many places, but did you go to church? They said no. I asked them why. They answered, well, it's simply not their type. Unfortunately I had to get off bus and couldn't continue the conversation. Time flies, life is short.
人生是短暫的,我們用來做什麼呢?這次在台北搭公車,遇到一對老夫婦,他們看我家有四個孩子(在台灣很罕見)很有意思,於是我就和他們聊天。我問他們從哪兒來,要去哪兒?他們說,從板橋來,要到台北市某間廟拜拜。我就問,喔,跑這麼遠哪?他們說,他們常常拜拜,有時候還騎摩托車去。我問,那麼你們有沒有去過教會呢?他們說沒有。我說,為什麼不去呢?他們說,也沒特別理由,就是沒去教堂。公車很快到站,我還沒來得及繼續講,就得下車。真是感嘆時間不夠。
So, time flies, and we are sojourners on this earth, just like Joseph and Moses in Egypt, Daniel in Babylon, etc. There is no need to pursuit worldly riches, worldly success, worldly pleasure, worldly wisdom, worldly fame, worldly affirmation … etc., because those are only temporary. A born-again Christian's true desire is for his Lord and Savior Jesus Christ. We long to live up a life worthy the calling, we long for Christ's name be known to all, and we long to see many souls are turned from darkness to light because of Christ.
我們一生有多久呢?時光是一天天、時刻分秒飛逝。我們在世是寄居的客旅,我們不需要世上的功名利祿、也不必追求世人的羨慕首肯,因為在每一位重生得救的基督徒心中,最深的渴望就是彰顯出基督永恆的生命、傳揚耶穌基督的福音,使眾人脫離黑暗、進入光明,最後回到基督的父家,得安息、得賞賜。《聖經》告訴我們,約瑟、摩西,在埃及是寄居的客旅;大衛在世上是寄居的客旅;但以理在巴比倫是寄居的客旅;甚至到了新約主耶穌、眾門徒都是世上寄居的客旅。讓我們愛惜光陰,行走在光明中,讓基督的名被認識,使眾人同得福音的好處。
This Saturday, 10/1, please come to church-wide clean-up, as part of preparing for Sanctuary Dedication on 11/19. This Sunday 10/2, there will be Reception of New Members during worship service. On one hand, we thank and praise God for growing Christ's body, on the other hand, we look forward to live up a vibrant Christian and church life. The sermon is from Romans 16:17-20. This is the final reminder from Paul to the Church at Rome, and it is for us, too. Let us prepare our heart to worship God together.
這週六 10/1 有全教會大掃除,請大家一起來,讓我們一起為 11/9 獻堂做準備。這主日10/2 崇拜中我們舉行會員接納禮,感謝神使基督的身體不斷地成長,並且盼望更有活力的服事。主日信息《羅馬書》16:17-20 是保羅給羅馬教會最後的提醒,也願意成為給我們的提醒。讓我們都預備好心,一起來敬拜神。
平安谷关爱网 PVCCC CareNet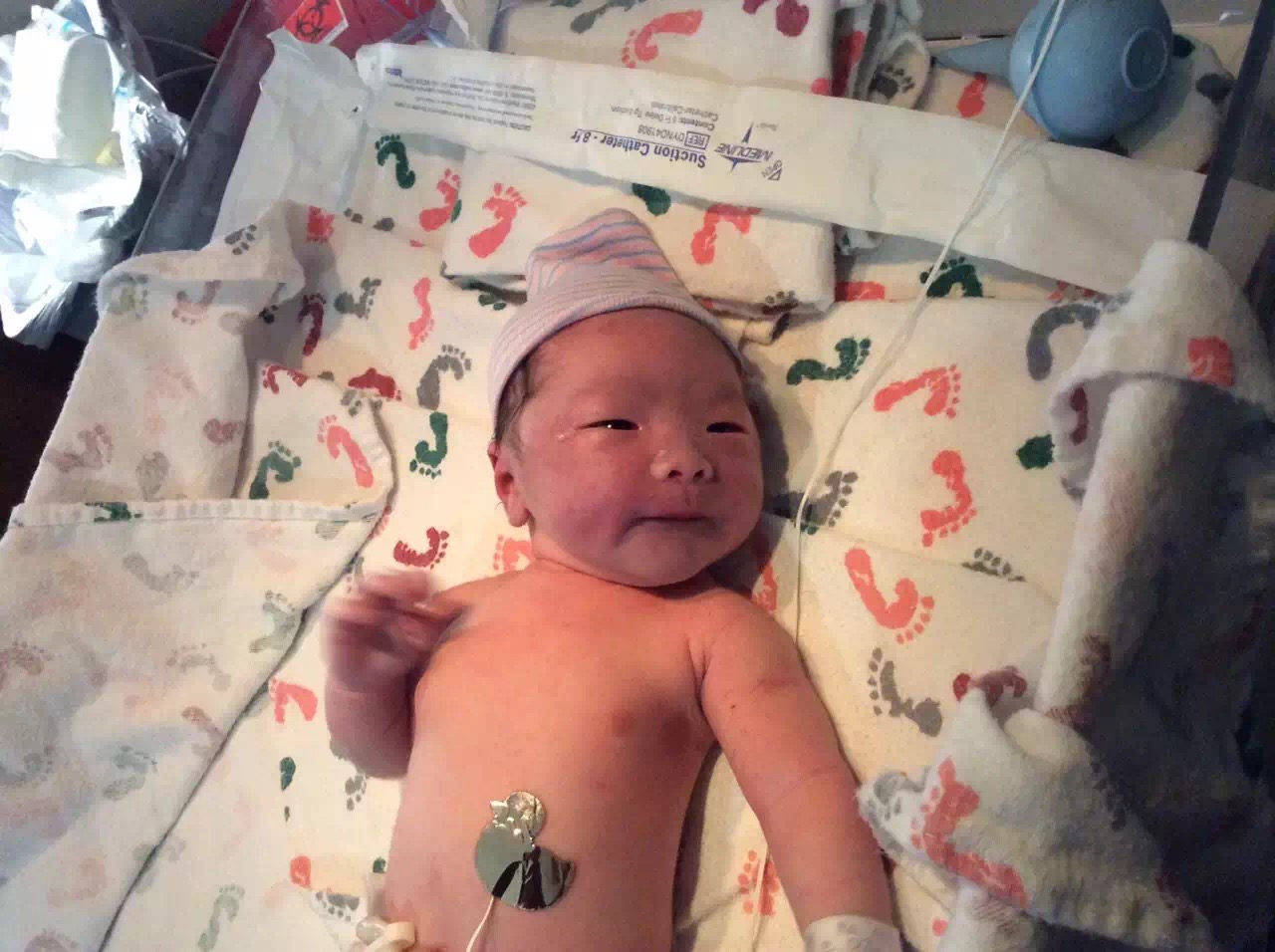 感谢主!马春玲姐妹/李冰泉弟兄的儿子于09/11凌晨1:20出生,顺产,重8磅4盎司,身长21英寸。Praise the Lord! The new baby son of Sister Chunling/Brother Bingquan was born smoothly 1:20 AM, 09/11. The little prince weighed 8 lb 4 Oz and measured 21 Inches.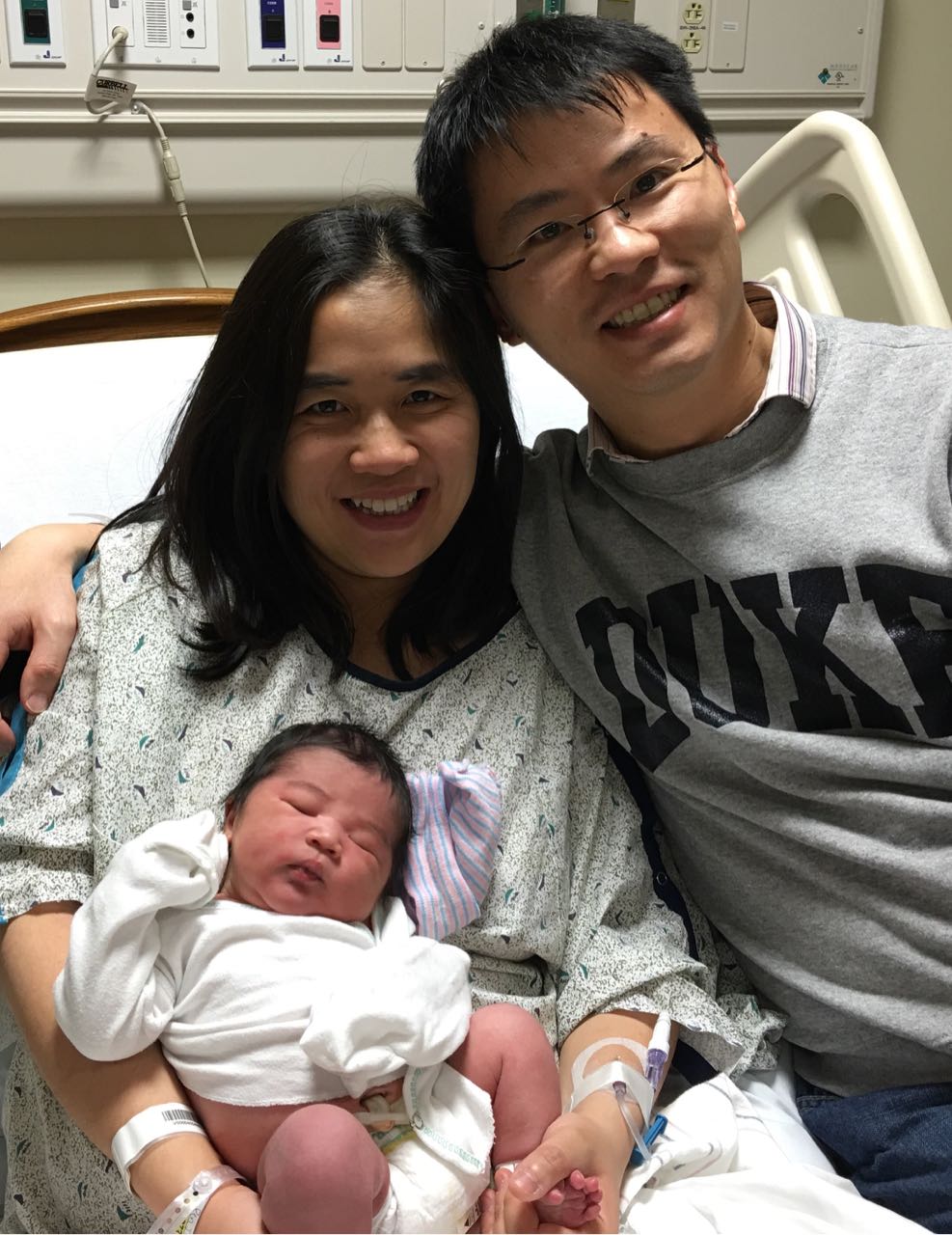 哈利路亚!阮相国和任洁的儿子Adrian Pax Ruan 于04/14在Grandview Hospitaol出生。小胖子Adrian体重8磅15盎司,身长21寸,母子俩将于04/16回家。Hallelujah! Baby son of Scott and Jie, Adrian Pax Ruan was born 04/14 at Grandview Hospital. Adrian weighs 8 lb 15 Ounces, and measures 21 inches. Both baby and mom will be back home 04/16.
最新讲道 Recent Sermons

最新讲道录音 Recordings of Recent Sermons
教会通知 PVCCC Announcements

亲爱的弟兄姐妹们,平安谷总务部恳请大家参加本周六(10/1日)的全教会秋季大扫除,任务包括外部花园整理和内部房间清洁,时间为9:30 AM-12:30 PM。因工作量大, 需要很多弟兄姐妹参加才能完成,强烈建议毎个团契小组(包括Youth, 儿童主日学老师和家长)至少派出四位弟兄姐妹参加,具体内容包括:10位弟兄自带铁铲或十字镐参加花园的整理和清扫;其他的弟兄姐妹先清扫自己团契、主日学所在教室和另外一间指定房间,然后一同清扫大堂、餐厅(Fellowship Hall)及厨房。教会将提供清洁液、纸巾和用于清洁窗户的橡皮刮片,请您带上矮梯以方便清洁窗户上部。为了方便有小朋友的弟兄姐妹们安心清扫,葛扬老师会组织儿童节目。届时教会提供休息时的咖啡和Duncan Donuts, 午餐采用Potluck,建议每家带一道菜,大家一起聚餐,其乐融融!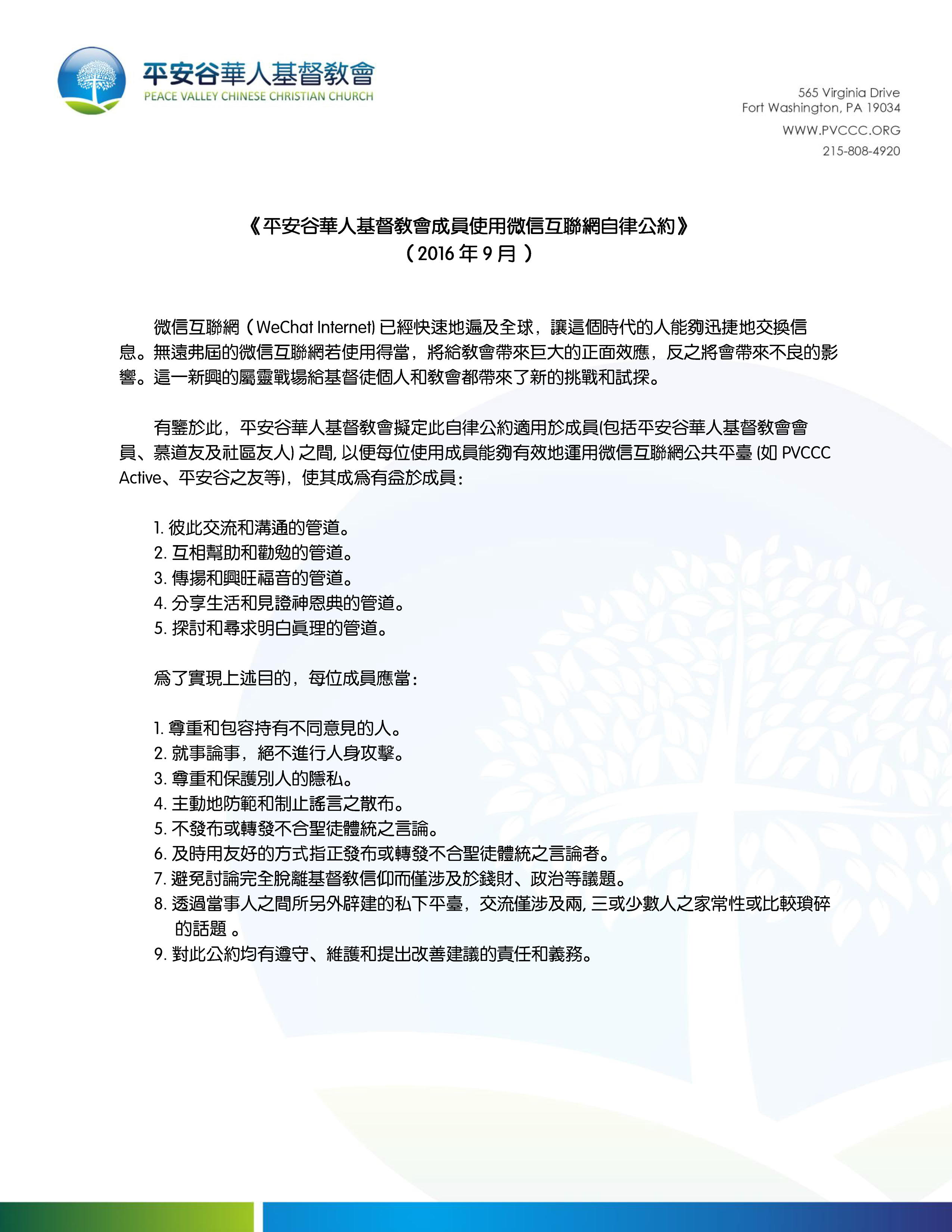 为了帮助弟兄姐妹们更好的使用平安谷微信交流平台(PVCCC Active 和平安谷之友), 平安谷华人基督教会拟定了《平安谷华人基督教会成员使用微信互联网自律公约》,请弟兄姐妹们遵照执行, 谢谢合作。In order to help brothers and sisters to better use current PVCCC WeChat platforms (PVCCC Active and PVCCC Friends), PVCCC Board has drafted << PVCCC WeChat Usage Guidelines>>, all PVCCC members and friends are strongly recommended to comply with when using PVCCC WeChat. Thanks for your cooperation.

教会新闻 PVCCC News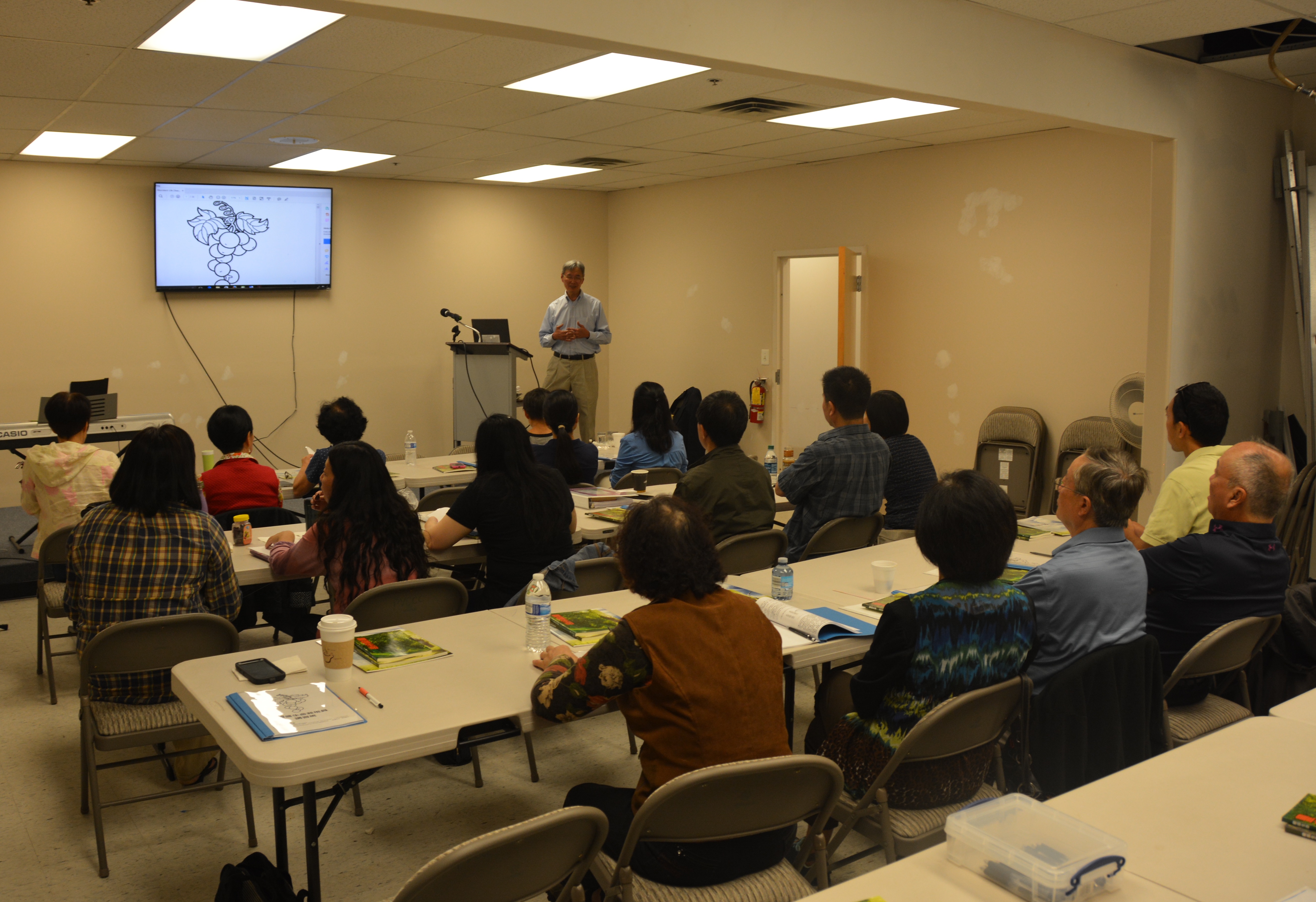 由平安谷教育事工部首次主辦, 更新傳道會 Christian Renewal Ministries 周德威傳道帶領的"<豐盛生命> 一對一栽培員訓練" 於9月24日在教會進行,共有25人參加 。
"<<Abundant Life>>-1+1 Counselor Training" sponsored by PVCCC Education Department and hosted by Minister David Chou of Christian Renewal Ministries was held 09/24 at PVCCC. Totally 25 members attended.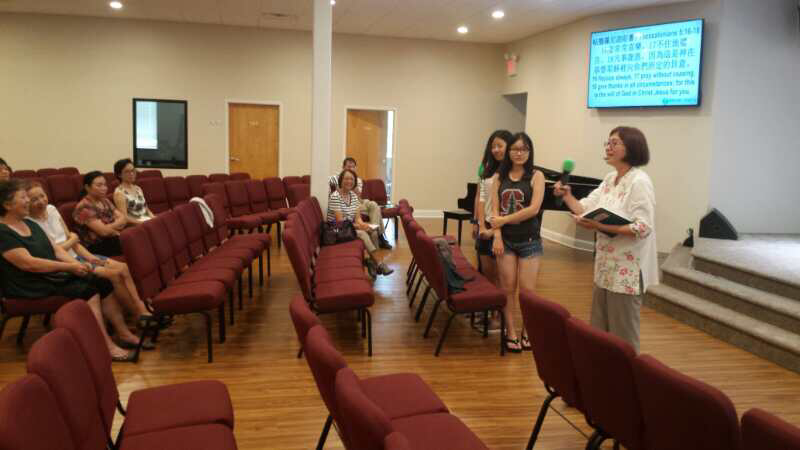 姐妹團契9月10日(周六)下午兩點在教會聚會,由曉莉姐妹主講父母與子女沟通技巧,弟兄姐妹们收益良多。Sister Fellowship gathered at church. Sister Shirley Chen gave a seminar on the skill of parents' communication with children. It was very helpful and well appreciated.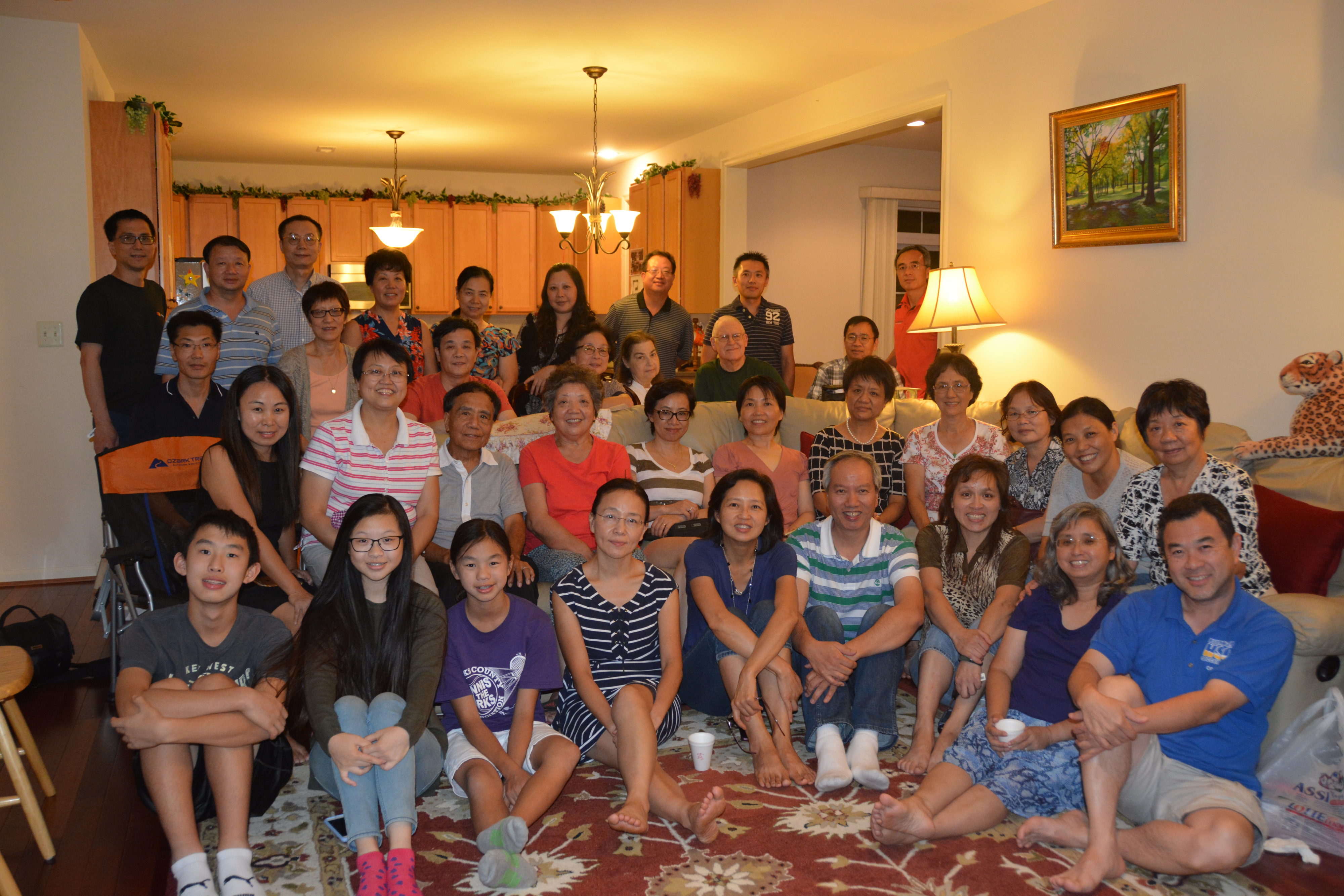 陈韶峰和梁红莲夫妇因为工作变动,即将搬迁至芝加哥。弟兄姐妹们于09/03在余晓/潮英家聚会,送别韶风弟兄和红莲姐妹。谢谢他们过去多年在教会的默默奉献,祝愿他们在芝加哥找到合适的教会,继续服事和敬拜我们的永生神。Brothers and sisters held a farewell party at Sean/Lynn's house for Ivan/Lotus who will move to Chicago soon due to job change. Thanks to them for their quiet and faithful serving. May God bless them to find a right church in Chicago to serve and worship our everlasting God.
更多新闻 More News
影音集锦 Videos and Gallery

平安谷华人基督教会录影集锦 PVCCC Videos
平安谷华人基督教会照片集锦 PVCCC Gallery (2015-Present)